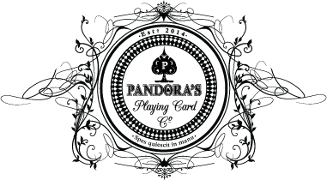 Home
Mission Statement:

To Supply the finest Custom Playing Cards from around the world and present them in high quality handcrafted wooden gift boxes.
---

Pandora's Playing Card Co. (Part of CVA Supplies) is a playing card gift company specialising in the presentation of custom poker cards, housed in bespoke wooden gift boxes.

All our wooden playing cards boxes are designed, sourced and manufactured in the UK! Our luxury range of rigid boxes are supplied by a leading UK based Company. When we say it's made in the UK, we mean it's made in the UK!
The Stoves "made in Britain" logo is etched into each and every presentation box we make; giving you, our valued client that peice of mind, that you have a genuine British made playing card gift.

Custom playing cards makes for a really unique and quirky gift idea. Most of us have played a game of cards with a friend or family member at some point. A custom deck of cards is a premium version of what you might have played with and also makes for a great conversation point!
Premium Q1 paper grade, Air-cushioning, Cambric and Linold finishes, are all hallmarks of what makes a premium deck of cards!

Playing card designers, put their heart and soul into designing decks of cards. Often these decks will have a real story to tell, a narrative and above all, a great product to enjoy. Our Company founder, believes in presenting these wonderful works of miniature art in a manner that reflects the time, effort and sheer passion needed to produce a deck of premium cards. All our playing card gift sets, are designed to complement your furniture or bookshelf, and are built to last many years!

A Playing Card Gift Set is a really unique and special gift idea, that will sure to please!
Disclimer: Please note, our wooden boxes all display unique characters, so no two boxes are the same. Packages concepts are under continual change.
Rigid Boxes
A4 and A5 Luxury Gift Box.

Wooden Gift Boxes
Handcrafted in the UK.

Luxury Gift Sets
Luxury Playing Card Gift Sets.


prev
next