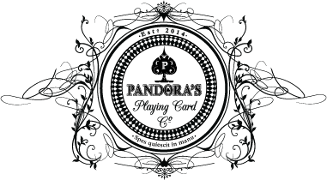 Home
FREE UK DELIVERY ON ALL ORDERS!
Pandora's Playing Card Co. (PPCC) is a family run company, based in Lancashire.
We are a specialist on-line retailer of playing cards, offering some of the most sought-after premium decks, from around the globe.
Our playing cards can be bought individually, or in one of our handcrafted wooden playing card boxes or in our themed gift sets.
PPCC. in-house creative team are experienced in bringing many creative playing card gift set ideas.
Our themed gift sets are original, prepared in-house and all cardstock is sourced from FSC certified UK suppliers.
You can buy any of our products, directly from our website. If you prefer to discuss your box set, please email our team.
The combination of luxury playing cards packed in one of our themed gift boxes, offers a very unique gift experience.
(As we say, "a gift set like no other").
If you are a collector of playing cards, a gift-shop retailer or simply looking for that one-off gift idea, then PPCC. would love to hear from you.
Our team are friendly, knowledgeable and have over 12 years combined experience in the playing card industry.
Latest Playing Cards In Stock
23 January 2022
Playing Cards in Stock.
Read more...
More New Decks in Stock...